THE LEADERSHIP ACCELERATOR ACADEMY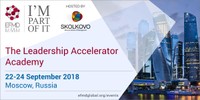 WHEN
Sep 23, 2018 09:00 AM
to
Sep 24, 2018 01:00 PM
LOCATION
Moscow, Russia
A joint international program by EFMD Global Network & Moscow School of Management SKOLKOVO.
Transformational forces are in the process of reshaping higher education and business schools, as professional schools, are at the forefront of this development. As universities are responding to the call of becoming more customer oriented, impactful, technology-embracing, and network focused, hardly 'any stone will be left unturned'. Everything from content, the role of research, pedagogy to students are credentialed is likely to be affects.
The Leadership Accelerator Academy focuses on these challenges and will help participants to respond to them in their professional roles, as leaders and shapers in higher education.
The Leadership Accelerator Academy enhances the participants' leadership competencies while at the same time focusing on issues that are high up on the reform agenda of higher education.
Document Actions