EFMD GN CENTRAL AND EASTERN EUROPE CONFERENCE IN WARSAW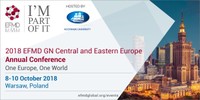 WHEN
Oct 08, 2018 12:00 PM
to
Oct 10, 2018 02:30 PM
LOCATION
Warsaw, Poland
The first EFMD Global Network Central and Eastern Europe Annual Conference will take place in Warsaw, Poland, 8-10 October 2018, under the theme "One Europe, One World."
Geopolitical shifts and their implications for the industry, disruptive technologies, internationalisation and business school impact are just some of the challenges we will discuss during the conference.
Kozminski University will host us for this unique event for management development institutions from the region and beyond.
Meet your colleagues from academia, business, public service and consultancy and benefit from this forum for information, research, networking and debate on innovation and best practice in management development in the Central and Eastern Europe region.
Document Actions