THE EXECUTIVE ACADEMY - EUROPE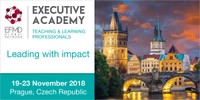 WHEN
Nov 19, 2018 09:00 AM
to
Nov 23, 2018 01:00 PM
LOCATION
Prague, Czech Republic
TAKE ADVANTAGE OF A UNIQUE PERSONAL AND PROFESSIONAL DEVELOPMENT OPPORTUNITY AND TAKE PART IN THE EXECUTIVE ACADEMY (EA) FOR TEACHING & LEARNING PROFESSIONALS.
The Executive Academy has been designed for business school executives in charge of degree programmes or the entire degree portfolios. The Academy's participants should be holding a leadership function in their School or should be striving towards achieving such a role.
Target Group
Programme Directors, Associate/Assistant Deans of Teaching & Learning, and Senior Program Managers with a complete overview of (though not necessarily direct responsibility for) the entire academic cycle: admissions, programme design & administration, career services, and alumni management.
For each stream intake, the Executive Academy also seeks to accept managers of corporate universities or executives of corporate talent management departments to cross-fertilize group learning. Corporate participants can improve their understanding of and their ability to interact with business schools.
Context
Executive Academy journey starts with a preparatory phase, which includes self-study and a comprehensive 360° feedback exercise administered with the support of the Center for Creative Leadership (CCL).
The core of the Executive Academy is a face-to-face week in the selected region, with the maximum of 20 participants admitted to each stream.
Participants will:
- Advance through a self-discovery process to better understand their strengths and limitations, which will contribute to the bridging of self-knowledge and self-leadership.
- Learn how to drive a strategy-driven programme design and review process, how to manage different performance layers and how to interlink stakeholder expectations and satisfaction.
- Understand and implement disruptive strategies in business education and map performance metrics to actions and milestones.
The face-to-face week will be followed by a project phase at the participants' home institutions with support and feedback provided by faculty facilitators and personal coaches.
A rigorous and challenging admission process ensures that peer-to-peer interaction in the Executive Academy will be meaningful and ability-enhancing for all participants.
Document Actions